Operation Bookmark
Operation Bookmark, which began in 2002, is an ongoing fundraising project of the Literacy Committee and the Rotary Club of Windsor-Roseland.
It is noted that over one billion people can neither read nor write in any language and two-thirds of them are women. In North America many adults are still functionally illiterate which can cause problems when labels on prescriptions are misinterpreted. Many accidents occur in workplaces because written safety information is not fully comprehended. Access to good paying jobs and promotions are often denied to those with limited literacy skills.
How the project works: Members of the Club, friends and family are asked to donate $20.00 to purchase books for children and adults locally and in developing countries. This has become a very successful fundraiser. Members and friends and families donate to acknowledge birthdays, anniversaries, graduations, job promotions, memorials and other occasions. In addition, the Club donates a book in the name of every guest speaker. The speaker signs a nameplate and is advised that it will be placed in a donated book somewhere in the world.
Our goal: To raise the money for textbooks, library books and school supplies and be able to donate annually to those in need.
Locally, Operation Bookmark has donated library books to elementary schools and high schools and some teaching resources have been donated to a volunteer group teaching English as a Second Language to migrant farm workers in Essex County.
Internationally, Operation Bookmark resources have been sent to Ghana, Guatemala, Brazil, Kenya, South Africa and Nicaragua. Books and supplies are purchased in those countries. Buying books in these countries saves shipping costs, helps the economy and ensures compliance with their language, culture, and educational curricula standards. The nameplates are sent to local Rotarians or taken by those club members who travel to participate in one of our projects abroad and to our own Indigenous partners in Ontario and Saskatchewan.
It is our firm belief that only through Literacy and Education can members help to break the cycle of poverty at home and abroad!
If you would like to support this project by purchasing an Operation Bookmark please contact: windsorroselandrotary@gmail.com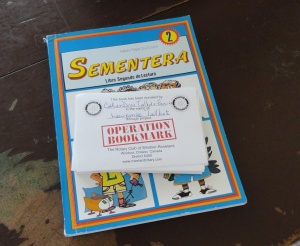 Learn about our Guatemala Literacy Project here.